BALANCE
For our seniors: A special food designed to boost vitality, even in old age. The reduced protein and fat content helps to ease strain on the metabolism. The balanced and extremely well-tolerated formula containing valuable antioxidants helps to counteract cell-aging. It is therefore highly suitable for older dogs.
For older and less active dogs with a lower energy requirement
Low-fat recipe to prevent obesity
The low fat content and L-carnitine encourage an optimal ratio of fatty tissue and muscle mass
Together with taurine, L-carnitine also supports cardiovascular functions
Complete feed for adult dogs
Pakkauskoko:
900g
5x900g
15kg
Complete feed for adult dogs
Composition: whole grain corn; dried poultry protein; rice; beet fibre; hydrolised poultry protein; poultry fat; minerals; chicory root (ground, natural source of inulin); dried meat from the New Zealand green-lipped mussel (Perna canaliculus);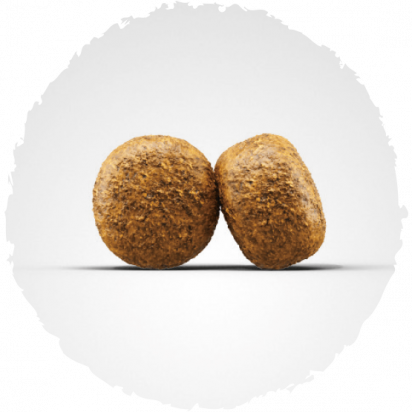 amount of food
inactive/older
(per animal and day)
normally active
active
5 kg
50 g
65 g
70 g
10 kg
90 g
120 g
150 g
20 kg
150 g
200 g
255 g
30 kg
200 g
270 g
345 g
40 kg
250 g
335 g
425 g
60 kg
335 g
455 g
580 g
80 kg
415 g
570 g
725 g
Please keep in mind that the recommended amounts are only a rough indication and should be adapted to the individual dog's feeding needs and activity level.
Ravintoaineet
proteiini
20.0 %
rasvapitoisuus
8.0 %
raakakuitu
3.0 %
raakatuhka
5.8 %
kalsium
0.95 %
fosfori
0.75 %
Ravitsemukselliset lisäaineet/ 1 kg
A-vitamiini
24,000 I.U.
D3-vitamiini
1,800 I.U.
E-vitamiini
400 mg
B1-vitamiini
15 mg
B2-vitamiini
20 mg
B6-vitamiini
20 mg
B12-vitamiini
100 mcg
Ravitsemukselliset lisäaineet/ 1 kg
pantoteenihappo
50 mg
niasiini
90 mg
foolihappo
5 mg
biotiini
1,000 mcg
tauriini
1,000 mg
L-karnitiini
300 mg
rauta (rautasulfaatti. monohydraatti)
200 mg
sinkki (glysiinin sinkkikelaattihydraatti)
160 mg
seleeni (natriumseleniitti)
0.25 mg
mangaani (mangaani(II)oksidi)
16 mg
kupari (glysiinin kuparikelaattihydraatti)
20 mg
jodi (vedetön kalsiumjodaatti)
2.00 mg
Teknologiset lisäaineet
Antioxidants: tocopherol extracts of natural origin.
Tuotteen hyödyt

Weight Controll
A particularly low-fat formula and L-carnitine form the basis for an ideal body composition for less active and/or older dogs.

Reduced protein
This formula has a lower protein content and can help relieve the metabolism and organs.

Heart function
L-carnitine and taurine support heart function.