SENSICAT
JOSERA SensiCat's well-balanced formula with high-quality ingredients ensures high digestibility.
Ideal for adult cats and cats with a sensitive digestive system Highly accepted formula and easily digestible ingredients Encourages a pH-value of 6.0-6.5 to reduce the risk of urinary stone formation Dietary fibre reduces hairball formation Also suitable for kittens from 6 months on that prefer a larger kibble size
Complete feed for adult cats.
Pakkauskoko:
400 g
2 kg
10 kg
Complete feed for adult cats.
Composition: poultry protein (dried); maize; rice; greaves; poultry fat; sugarbeetpulp; poultry protein (hydrolysed), maize protein; poultry liver (dried), minerals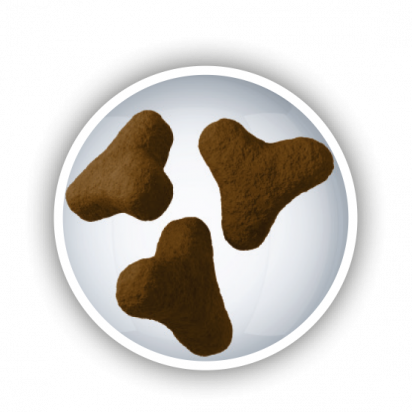 amount of food
SensiCat / 24 h
2 - 3 kg
25 - 40 g
3 - 4 kg
40 - 55 g
4 - 5 kg
55 - 70 g
5 - 7 kg
70 - 100 g
7 - 10 kg
100 - 125 g
Please keep in mind that the recommended amounts are only a rough indication and should be adapted to the individual cat's feeding needs and activity level. Always provide your cat with fresh drinking water.
Ravintoaineet
proteiini
33.0 %
rasvapitoisuus
18.0 %
raakakuitu
2.0 %
raakatuhka
7.5 %
kalsium
1.30 %
fosfori
1.20 %
Magnesium
0.09 %
Ravitsemukselliset lisäaineet/ 1 kg
A-vitamiini
18,000 I.U.
D3-vitamiini
1,800 I.U.
E-vitamiini
220 mg
B1-vitamiini
15 mg
B2-vitamiini
20 mg
B6-vitamiini
20 mg
B12-vitamiini
100 mcg
Ravitsemukselliset lisäaineet/ 1 kg
pantoteenihappo
50 mg
niasiini
90 mg
foolihappo
5 mg
biotiini
1,000 mcg
tauriini
1,600 mg
rauta (rautasulfaatti. monohydraatti)
170 mg
sinkki (glysiinin sinkkikelaattihydraatti)
150 mg
seleeni (natriumseleniitti)
0.25 mg
mangaani (mangaani(II)oksidi)
15 mg
kupari (glysiinin kuparikelaattihydraatti)
15 mg
jodi (vedetön kalsiumjodaatti)
1.90 mg
Teknologiset lisäaineet
Antioxidants: tocopherol extracts of natural origin.
Tuotteen hyödyt

easy digest
The premium quality and the gentle processing of the selected ingredients ensure easy digestibility and provide the optimal diet even for dogs with sensitive digestive systems.

Anti-hairball
Dietary fibre supports the transport of swallowed hair through the digestive tract and can thus help prevent the formation of hairballs.

Urinary-pH 6.0-6.5
The careful selection of ingredients and the special recipes ensure a perfect calcium-phosphorus ratio and a reduced magnesium level. A pH-value of 6.0-6.5 is being supported and can reduce the risk of urinary stone formation.